Attention Future PA! Watch the important video below...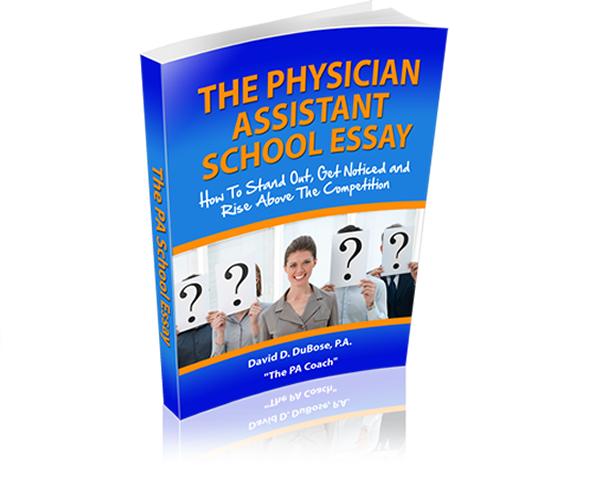 Hi Dave!!
I wanted to give you my sincerest thanks for your E-Book. Struggling with my PA essay, I purchased your book and within a few hours, I was able to create a tear jerking essay for the admissions committee to read. If it's okay with you, I would like to post the essay below, so that you may see the masterpiece you were able to help me create.
Thank you again so much!
Sincerely,
Valerie G
Dave,
This E-book made writing my narrative essay easy. the book provided me with a solid outline to write ideas about my essay and provided me with a blueprint to write a sucessful narrative essay that was in my mind submit ready.
I recieved the E-book on a Friday and was able to write a complete draft of my essay within two days. This book not only provides you with pages to brainstorm for ideas but also includes example essays on how to go about writing one.
Thanks again Dave so much for such a great tool for me to utilize towards getting into PA school. If you are staring at a blank computer screen or piece of paper and have no idea how to even begin writing your narrative essay I highly recommend purchasing the E-book as an investment towards your future.
Thanks again Dave!
Respectfully Charles G.

Having failed to get acceptance into PA school, I had to re-write my essay. As I stared at the blank computer screen, I realized I needed help. I searched through the countless websites looking for tips and tricks, but nothing really provided the knock out punch that I needed to differentiate myself from the thousands of other quality candidates. I was frustrated!
Then, I came across Dave's book. At the low price, I figured why not? Once I got it, I was amazed! It was like Dave was reading my mind about the questions and comments he posed to the reader. The book is easy to read and understand. It is written in a relaxed and friendly tone. This reduced much of the anxiety in an extremely stressful process. The self-analysis questions are outstanding. They virtually unlock a river of material that you can work with to piece together an essay that will make you stand out from the sea of other applicants.
Once you have your building blocks, Dave walks you through the process of formulating a "knock your socks off" statement. He covers misconceptions, organization, emotional effect, keys points, and even issues for non-native English speakers.
I had the foundations for my statement and a quality rough draft in no time.
I highly recommend this book for those who want to stand out and have a great essay!
A.J.
Houston, TX

Yes Dave, I Want The PA School Essay eBook. I know that this Insider Information will help ME Stand Out, Get Noticed and Rise Above The Competition
I understand that as soon as I purchase "Physician Assistant School Essay", I will get instant access to this "Secret Blueprint"  to writing the Best PA School Essay possible. Plus I REALLY want and need the real sample essays of the six Personal Coaching Students, showing me exactly how they "Rocked" the PA School Essay, and how I can too.
I also understand that there is no risk to me - I am free to try out the strategies inside this awesome book for a full 60 days, and at anytime within 60 days if I feel this is not for me, I can request a full unconditional money back refund... NO QUESTIONS ASKED.
I also understand that I am getting the exact insider information to get ahead of the stiff competition so that I may secure my spot in P. A. School just like the 6 students did!!
Click the "Add to Cart Button" below to take action now!
Terms Of Use | Privacy Policy | Contact Us